Designer Bathroom Storage
Adding cabinetry to a bathroom can solve some of the bathroom storage woes. Of course you will need to balance up the need for storage against the need to keep your bathroom looking spacious and open so unless you have a very big bathroom there will need to be some sort of compromise.
Sometimes something as simple as adding a few glass shelves in a bathroom can be enough to solve your storage problems. The glass allows the light to pass through so doesnt throw shadows which make the room seem smaller.
Look for storage that has design touches that are in keeping with the design of your bathroom. Looks for cabinets with understated elegance if thats what the rest of your bathroom conveys.
For bathroom storage furniture for traditional bathrooms look for country style cabinets and bathroom storage accessories that will carry on the traditional theme in your bathroom. For a different look for storage try a free standing basin unit with a vessel or similar sink instead of a large bathroom vanity.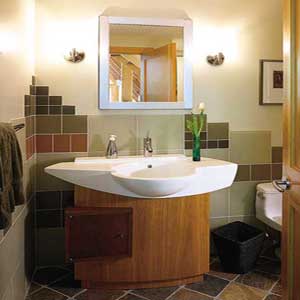 They take up much less space and allow you to use more free space in the bathroom. And of course there are the traditional wall mounted bathroom cabinets.
But dont assume they have to be white. If you cant find them in the color you want you can always buy one and then paint it the appropriate color to match your bathroom.
Bathroom Tile Design Pictures
Designer Bathroom Storage
Designer Bathroom Storage