Tile Bathroom Shower Design
If you are in the process of remodeling your bathroom or replacing your bathroom with a new design? If you want to make a huge difference in your bathroom this could be achieved even by chaging something small.
If you have a small bathroom, you may consider that your selection may be somewhat more limited. A large style tile design could be too large for your bathroom and actually make it appear to be smaller. Try and keep the size of the tile in proportion to the bathroom you are looking to remodel.
Glass tile shower designs are a very popular trend at the moment. Most glass tiles are usually made from recycled glass. Glass tiles are quite an expensive option, even though they are made from with the recycled maaterials, but do have a really good look.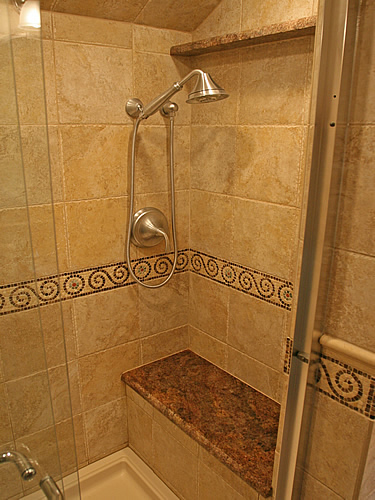 Subway tiles are also becoming popular again, especially if you are going for that retro look. They offer a very stream lined look and clean lines, and are actually very reasonably priced as they are simple to produce
Granite tile in the bathroom will always look good. Granite is probably the most luxury option when looking at remodeling the bathroom. But this stunning option does also tend to be the most expensive also.
You need to ensure that time is taken when it comes to tiling your bathroom, especially the floor. An uneven surface could cause real problems of safety especially with children or elderly around. Some tiles can be perfectly safe when dry but become dangerously slippery when wet.
To protect against slipping on wet tiles the safest way to go is to use floor tiles that have some short of texture to them. The texture will provide friction which will make them not slippery when they become damp. Textures tiles tend to be some sort of natural stone and tend to be a bit more expensive.
Materials like slate and tumbled marble look fantastic on a bathroom floor and because they have a natural texture to them are not so slippery.
You can also use mosaic tiles on the floor or pebbled tiles which have more of a rough surface so are not so slippery.
Of course you want your shower tiles to improve the look of your bathroom whether they are wall or floor tiles. Do your homework and make sure you find out the latest styles and trends in bathroom tiles as you dont want to fit a tile that has just become dated. Popular colors and designs changes all the time so make sure you know what the latest ones are.
Home improvement shows on tv and home improvement magazines do have lots of great ideas than can help improve your bathroom. Take from their ideas and incorporate the things that you really like into your own design.
Unless you are doing all the work yourself make you employ the services and take advice from a professional. Dont make the mistake of doing all the work in your bathroom yourself or hiring someone and then ignoring their advice. The good thing about the experts they will have seen all kinds of problems so will have solutions to any issues or concerns you may have.
If you are going to do your own tiling make sure you plan everything and if its your first time have a good look to find out what you need to do. Use your spirit level and make sure all your surfaces are true before you start. If they are not then make them level first before you start tiling otherwise your tiles are going to look very uneven when you are done.
Wall Tiles Bathroom
Tile Bathroom Shower Design
Tile Bathroom Shower Design