Narrow Bathroom Design
So how do you make a small or narrow bathroom look fantastic.
When decorating a small bathroom the main way is to keep things simple.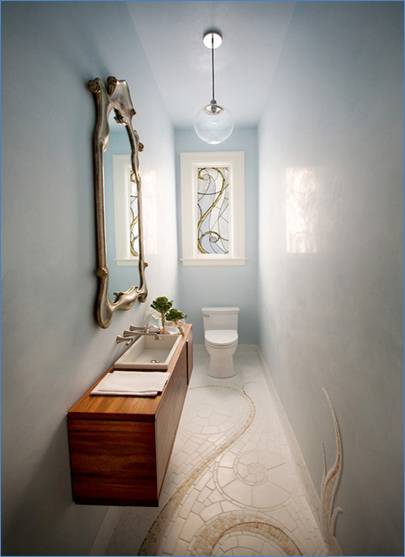 If you dont need a bulky bathroom vanity then its probably best to do without it and get a pedestal sink or a vessel sink with a much smaller vanity instead.
Think about getting a more compact sink and a more compact toilet.
Models are available today with a much smaller size that allows you to get the same function from your sink and your toilet but without taking up as much space.
And of course more modern toilets are also more efficient and use less water per flush plus generally provide two types of flush so you can use less water as needed.
Wall mounting sinks is also a great way to save space. Wall mounted toilets are also available. They both also make the room look more spacious as they dont take up any floor space at all.
Long Thin Bathroom
Narrow Bathroom Design
Narrow Bathroom Design
Narrow Bathroom Design