Black and White Bathroom
Black and white in the bathroom is a very clean and stylish look.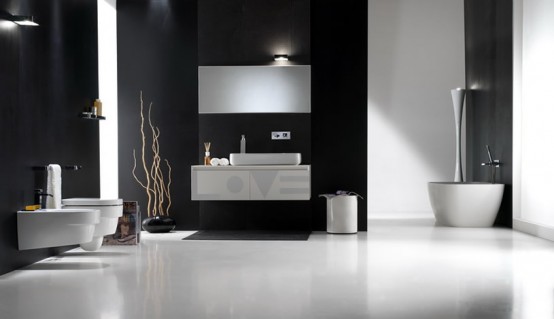 The thing that makes the difference in a black and white bathroom is how much of the black and how much of the white is used and which will dominate as that determines the atmosphere created in the bathroom.
The nice thing about choosing black and white is that they are very easy to use in a bathroom.
Most bathrooms tend to use white in one for or another anyway so adding black isnt a massive leap.
So white porcelain and ceramics are always there its just a case of adding some black where its needed to create that stylish contrast.
Adding black to a white bathroom completely changes the focal point.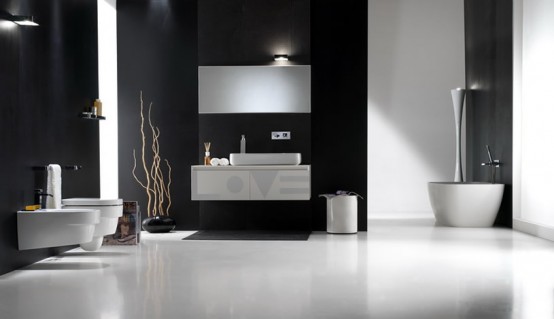 You could add black by painting the walls or tiling the walls in black.
Or you can use black floor tiles mixing and matching with white to maintain the balance.
Black and white really work well together and balance each other out with the drama of black and the brilliance of white.
If you dont want too much of the drama of black go for a mostly white bathroom but finish it off with touches of black.
Or do what a lot of people do that dont want an over dramatic black and white bathroom and focus on the floor.
Black and white flooring and then minor touches of black work really well in a mostly white bathroom and looks really good.
Its difficult to go wrong with black and white done this way and its not really too much of one or the other.
So the important thing about a black and white bathroom is getting the balance right.
Another easy and interesting way to apply black and white in your bathroom is to use a black and white patterned wallpaper.
Luxury Bathroom Design With Mirrors
Black and White Bathroom