Wet Room
A wet room is where you turn a bathroom into a walk in shower room that is totally waterproofed and with a drain outlet.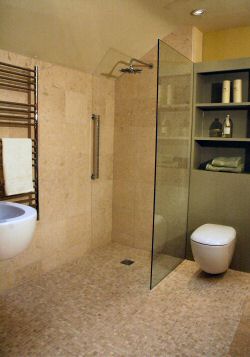 The advantage of a wet room if that you open up the entire space of the bathroom or shower room making it much more comfortable and luxurious to take a shower.
All tiles and grouts are slightly porous so the important part of installing a wet room is to ensure that the whole thing is properly waterproofed to prevent any water damage.
Wets rooms can be very luxurious or very simple and this of course depends on budget.
A wet room can really provide that touch of class in your bathroom or shower room.
Custom Bathrooms
Wet Room